Wild Food Recipes From The Milne Graden Kitchen
It's a great time of year for foraging at Milne Graden. As the season progresses, the hedgerows and woodlands are offering up an ever-increasing array of wild foods. 

Connecting with Nature
Giving attention to what is growing around us is both grounding and a fantastic way of deepening our understanding of where we live. Through learning where to find wild ingredients, and how to use them, we feel more connected to nature. For us, there is a reassuring satisfaction in observing seasonality and making the most of nature's bounty. Not only are many of these free foods remarkably flavoursome but also surprisingly good for you, offering up a welcome extra nutrient boost to boot.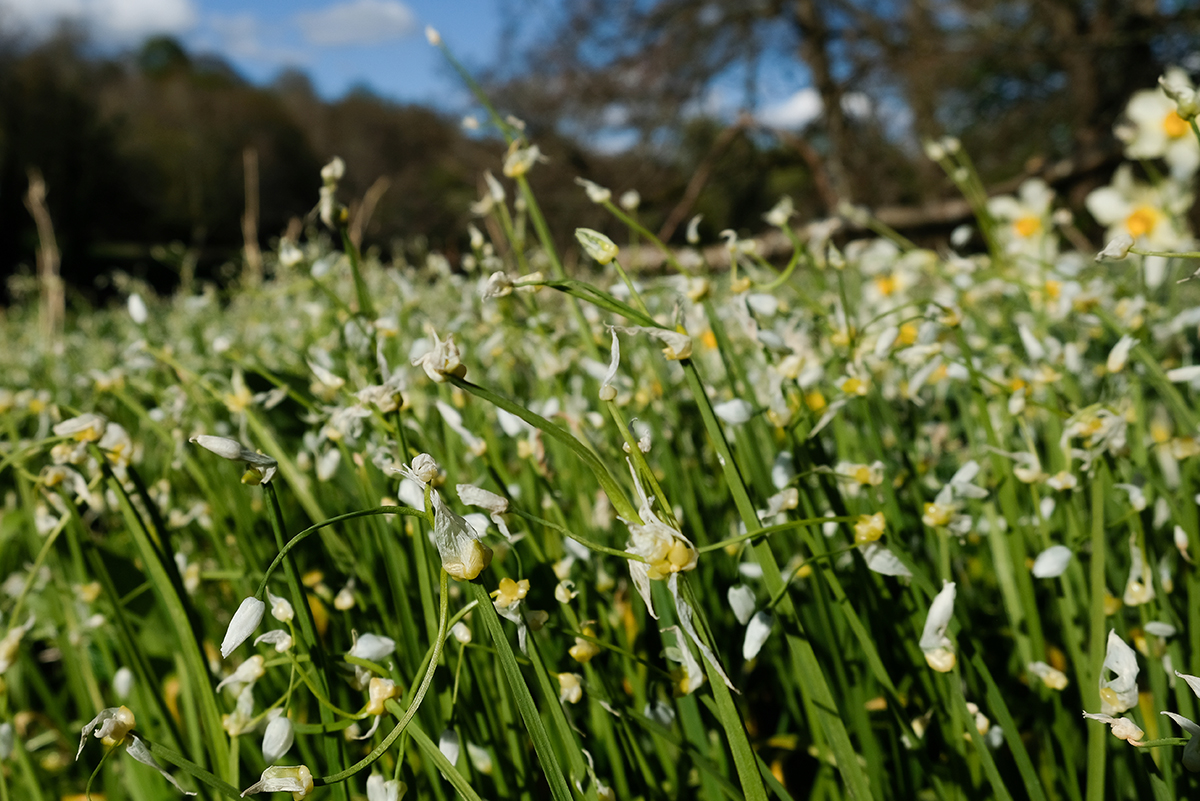 Punchy and Full of Flavour
Currently Milne Graden is awash with the crisp white flowers wild garlic and wild leeks, two of the most plentiful edible plants around in Spring. As we wander amongst them on our daily walks, our nostrils are filled with their unmistakable leeky garlicy scent. The foragers amongst us can't resist returning with a handful here and there. Punchy and full of flavour, both can be roughly chopped and added to many savoury dishes at the end of cooking and their delicate flowers add a touch of elegance when plating. 
Earlier in the season, we used the first wild leek leaves with young nettle tips to make a delicious super green soup. The nettles are still relatively tender and fresh so the same could be done now with wild garlic replacing the young leeks.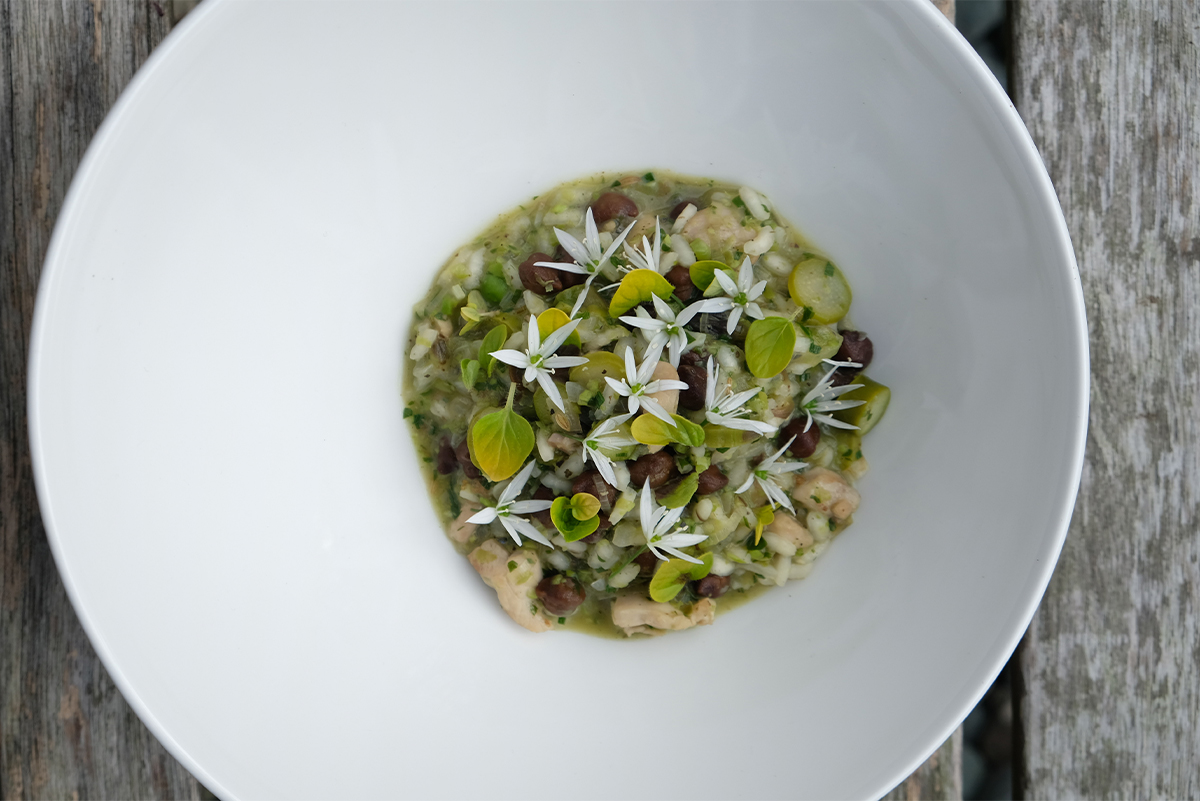 Wild Leek Pearls
As the wild leek flowers start to wain, small round seed heads from, known as pearls. Wild leek pearls are little bursts of leeky zing that add vibrancy to salads or as a topping with an unexpected flavour hit. They are perfect for pickling and this means you can keep a jar of Spring handy all year round.
When gathering, it is best to aim to get as little of the flowers and stem in your basket as possible, this will save time and effort when you get back to the kitchen. Separating the wild leek pearls from the flowers is a little fiddly but can be a most therapeutic task if you aren't in a rush! 

Wild Garlic and Asparagus Risotto
Ingredients:
500g Chicken Thigh Fillets
200g Arborio Rice
800ml Chicken stock
200g Peas
2 Bunches Asparagus – Sliced
100g Wild Garlic + Flowers for garnish
50g Flat Leaf Parsley
1 Leek – Sliced
Sage – Rough Chopped
Rosemary – Rough Chopped
1 x 400g Can Chickpeas
75g Butter
75g Parmesan – Grated
Salt and Pepper
Method:
Cut thighs into small pieces.
With a hand blender, blend together the peas and chicken stock.
In a hot pan, sear the chicken thighs.
Add the butter and then leeks, sage, rosemary and chickpeas and gently sauté.
Add the rice and sauté briefly before beginning to add the blended pea stock 100ml at a time.
Continue to add 100ml of pea stock until rice is cooked 'al dente'
Roughly chop the wild garlic and parsley and stir though along with Parmesan.
Serve with a garnish of wild garlic flowers.
3:2:1 Pickle for Wild Leek Pearls
3:2:1 Pickle: Three parts Vinegar, 2 parts water and 1 part sugar.
We used:
300g (approx) Wild Leek Pearls
300ml Apple Cider Vinegar
200ml Water
100g Golden Granulated Sugar
Method:
Bring all the ingredients to the boil then pour into a sterilised jar.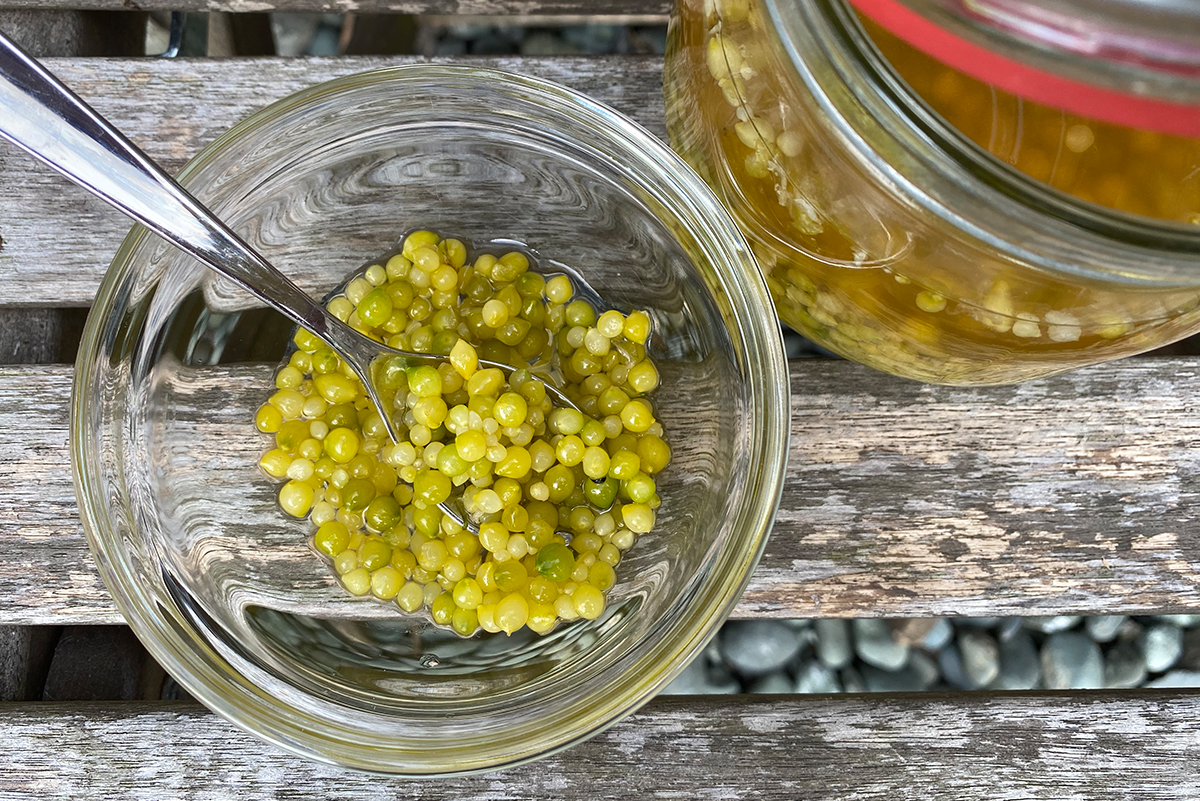 Have a favourite foraged food recipe? We'd love to hear about it, tag us @talesofthetweed