Introducing the Milne Graden Press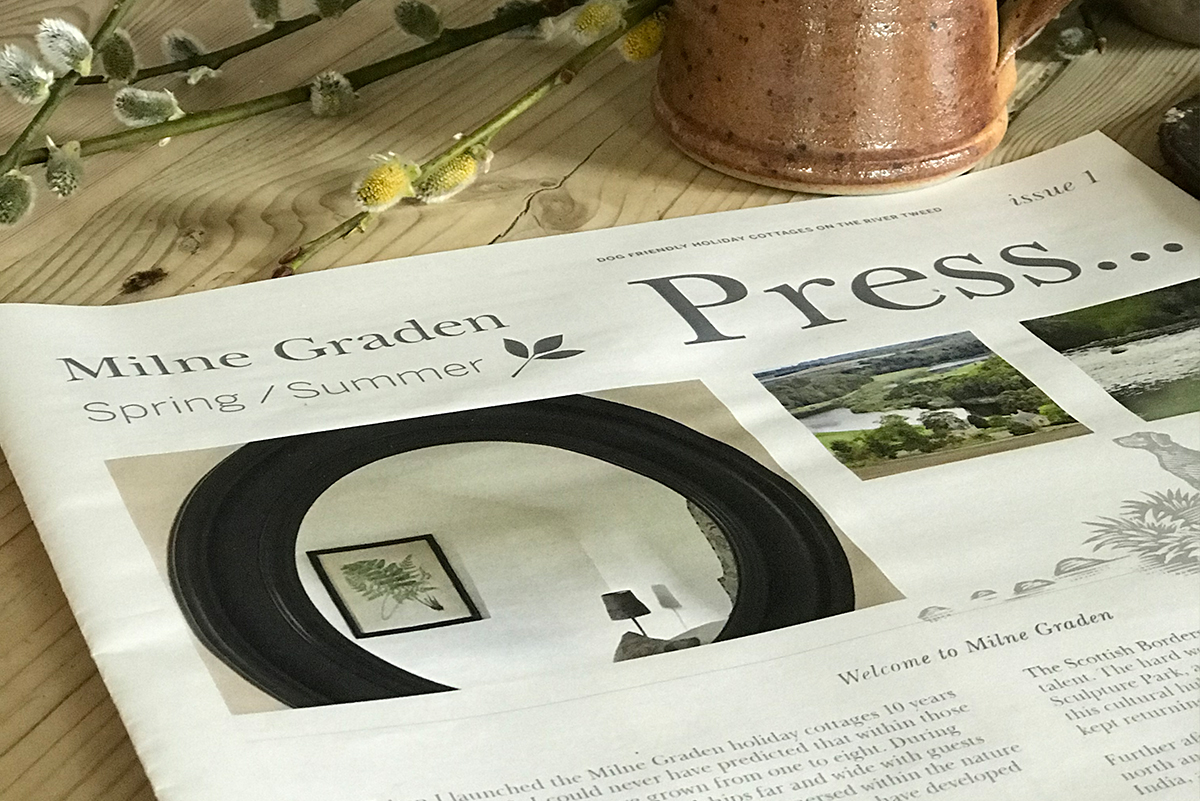 Introducing the Milne Graden Press… we've created our very own newspaper specially for Milne Graden holidaymakers and fishermen.
As a team we are constantly thinking of ways to evolve the Milne Graden experience. We all agree, a printed newspaper invites us to sit down and stay a while, go slow, relax and put our feet up. And what better way to start your holiday.
Of course we love our digital platforms for sharing snapshots of life at Milne Graden and for keeping up to date with our community. But for us, there's something quite magical about the printed word.
It's the joy of having something tangible to hold in your hands (that's not a mobile device!) and taking time to savour carefully considered words and images. In a time of well-being and mindfullness, we definitely think print is alive and well… more welcome than ever in our fast-paced day-to-day lives.
With this in mind, we took the opportunity to build on our much-loved seasonal Top Tips and now have more space to dedicate to the things, people and places we love.  We were also keen to share more of the work which goes on behind the scenes at Milne Graden, all helping to keep it magical.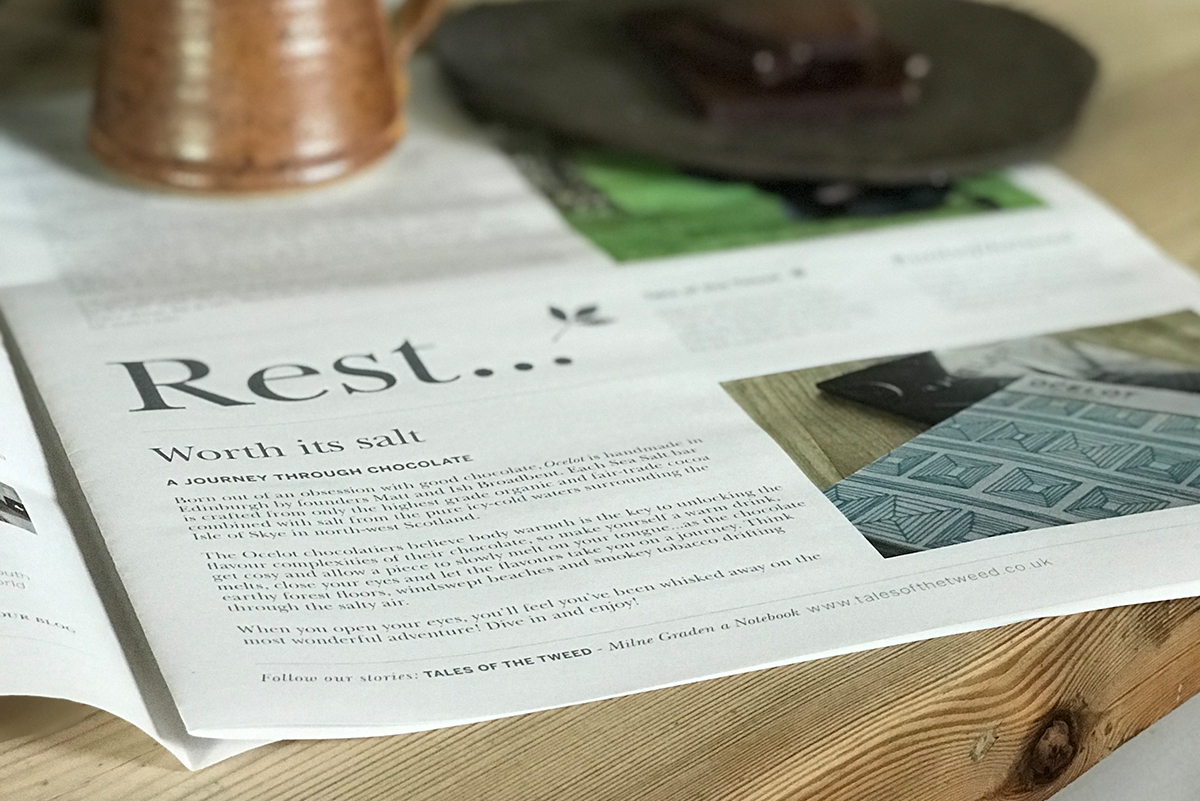 Every year we work hard to enhance the Milne Graden offering, and 2019 is no different. In fact, we are more than a little bit excited to share what's in store this season.
The first issue of the Milne Graden Press heralds the updates we've made this year. These include our sumptuous new Tielle pillows for that much sought-after great night's sleep, and a revamp for West Lodge inspired by Angie Lewin's wallpaper design "Nature's Table".
We're also delighted to bring Neom Organics "Happy Range" body care along with Ocelot Chocolate to our holiday cottage guests. Both companies produce organic, ethical products we really believe in and have a lovely synergy with our ethos at Milne Graden. Be sure to look our for more on both of these dynamic brands here on the blog.
Our feature article is dedicated to the highly anticipated Borders Art Fair, which we are delighted to be sponsoring this year.  We sit down In Conversation with Art Fair Director Frances Fergusson to find out what to look out for in 2019.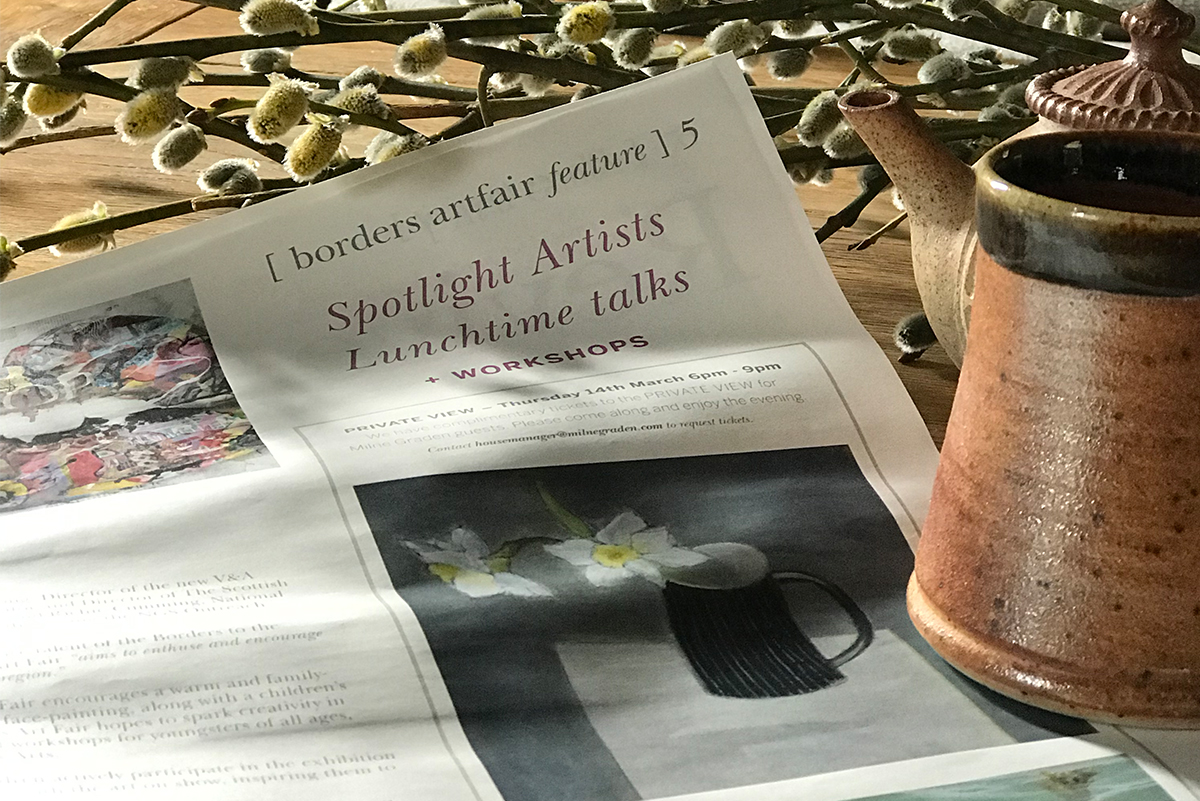 The back pages are crammed with things to do and places to see during a holiday or fishing at Milne Graden. From dog walks to art exhibitions, and dog-friendly dining to fish and chips on the beach. This is our tried and tested take on the best of our region. The illustration by Northumbrian artist Sarah Farooqi even serves as a pull-out guide for guests to tear off and keep in a pocket whilst out and about.
Fresh from the printers, holiday cottage arrivals will find a copy of the Milne Graden Press as part of our new guest welcome pack. Don't worry though, we've not forgotten our four-legged visitors – they still get their doggy treats too!
For the team, we feel the Milne Graden Press embodies our Retreat, Rest & Revive mantra for 2019, and we hope you'll agree! Do let us know what you think…
Tag us on instagram with a selfie reading your Milne Graden Press, and we will be delighted to drop you in a bottle of wine to enjoy during your stay! #milnegradenpress