Milne Graden Tails of the Tweed Dog Park
Destination: off-lead fun and frolics! It's here, the all new Tails of the Tweed dog park.  A safe and secure off-lead space, specially developed for Milne Graden's canine residents.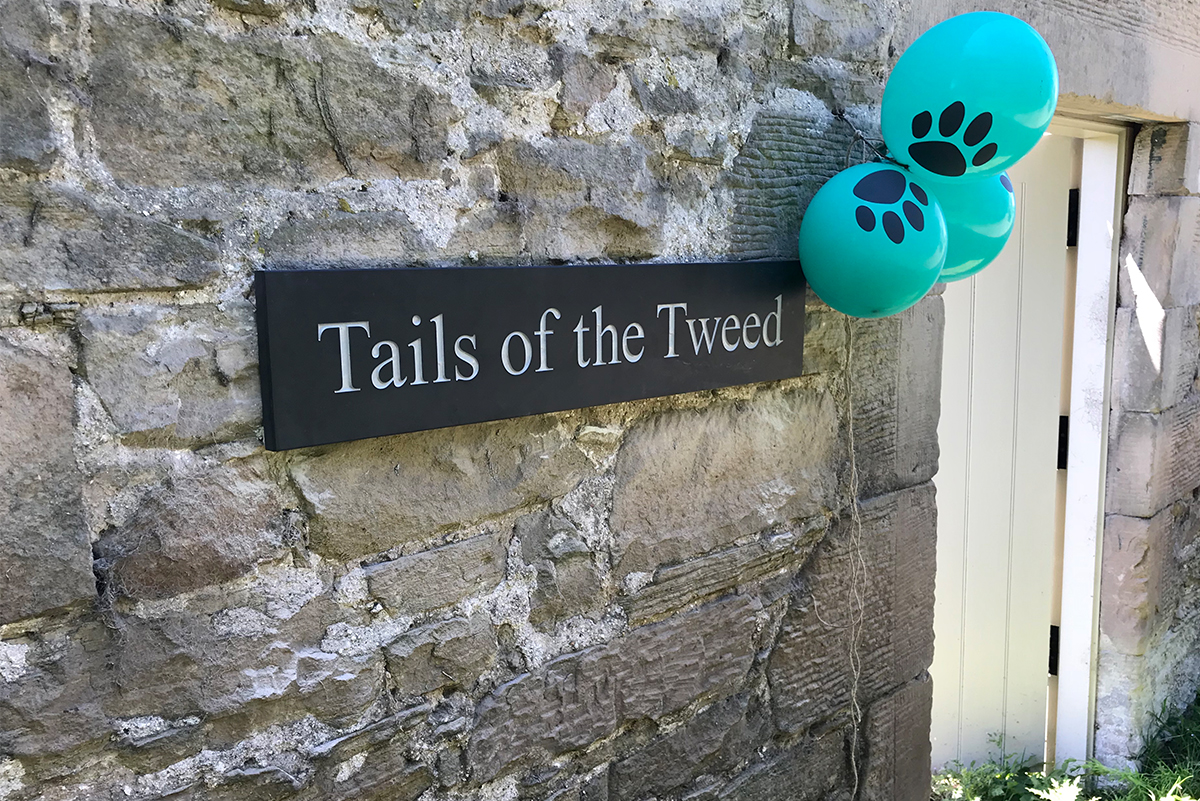 It's a well-known fact that the Milne Graden holiday cottages are throughly dog friendly – actually we're dog-mad, have you seen our Doggy Bags?! So as part of our 10th birthday celebrations, it seemed only right to include a special pressie for our four-legged holiday cottage guests.  That's right furry-friends; this one's for you! 
With a sprinkling of Milne Graden magic (and a lot of hard work from the A Team!), we have transformed the beautiful old walled garden into a brand new area for dogs to roam, run and socialise, as part of our circular dog walk around the Estate.
Here at Milne Graden we're sticklers for detail, and as you would expect, the dog park project has been no different. 
The park is split into two sections – one for larger breeds and one for the smaller varieties. This way, dogs can meet playmates of a similar scale and enjoy perfectly proportioned equipment for their size. 
There's lots to engage both doggy body and mind throughout the dog park. From slalom to high platform, and tunnel to ball pit, the equipment has dogs running up, down, over, under and through.  Not to mention the ultimate balance challenge: the seesaw! (Do tag @talesofthetweed or send a pic if your dog can master this one!)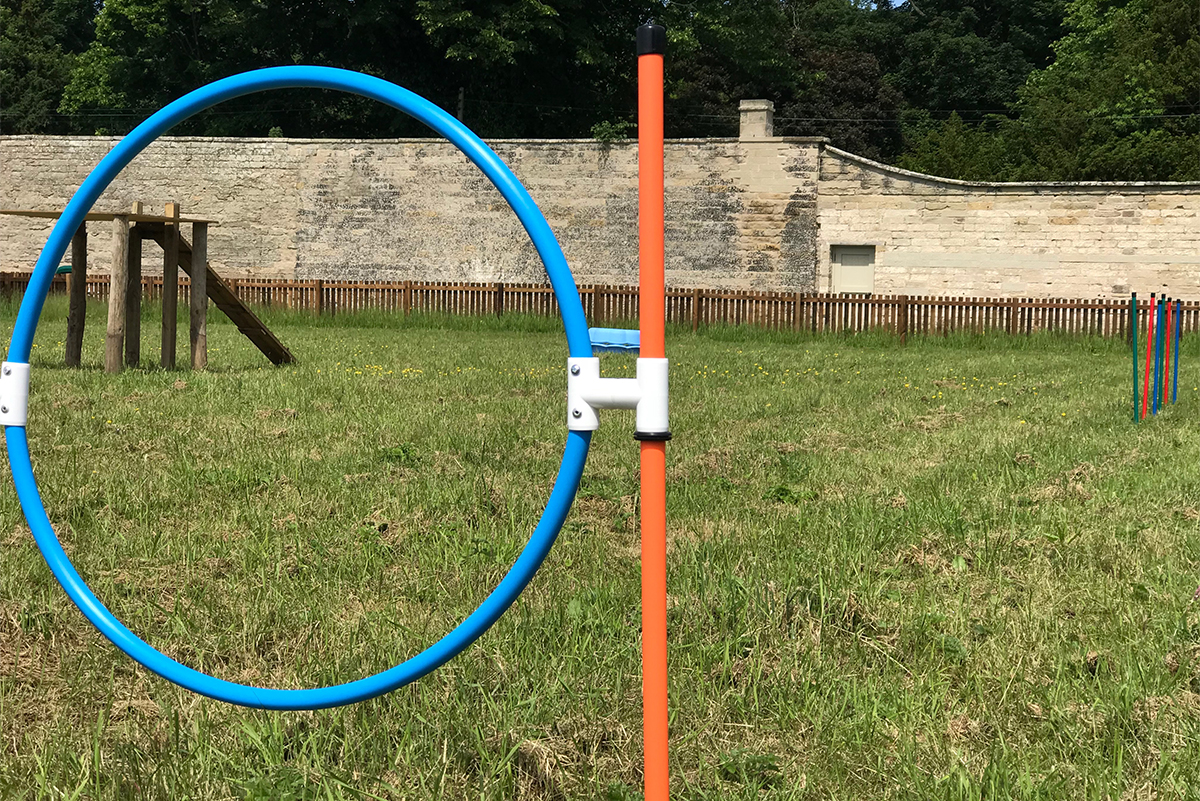 If that wasn't enough running around, there is a centrally located toy bin crammed full of throwable and throughly chase-able balls, bones, frisbees and much more.
We've used bright, beachy accents nod to Milne Graden's situation on the river Tweed and our secluded river beach just below the dog park and neighbouring Garden House. These blend with natural elements, such as log stepping stones and timber structures, to create a fun and interesting space for canines and humans alike.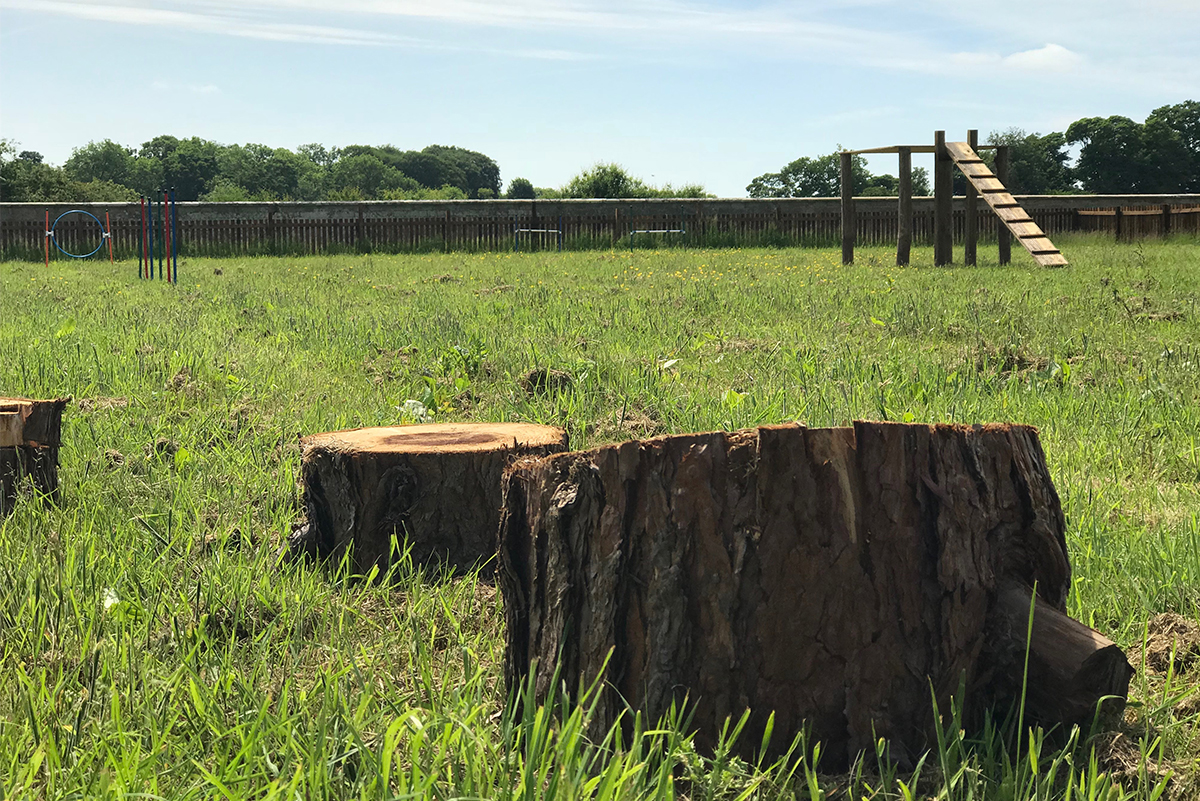 Of course, we wouldn't forget our dog owners during the design process! Comfortable, well-placed seating, and access to doogy-do bags and bins for easy-clean up of any 'whoopsies', have all been careful considerations. 
Within the dog park fence, our stripy green deck-chairs are just made for lounging in the sun (gin and tonic optional!). Whilst against the garden's old stone walls, beautiful benches – hand-crafted from a fallen Milne Graden cherry tree – provide a welcome pause when strolling around the park's perimeter.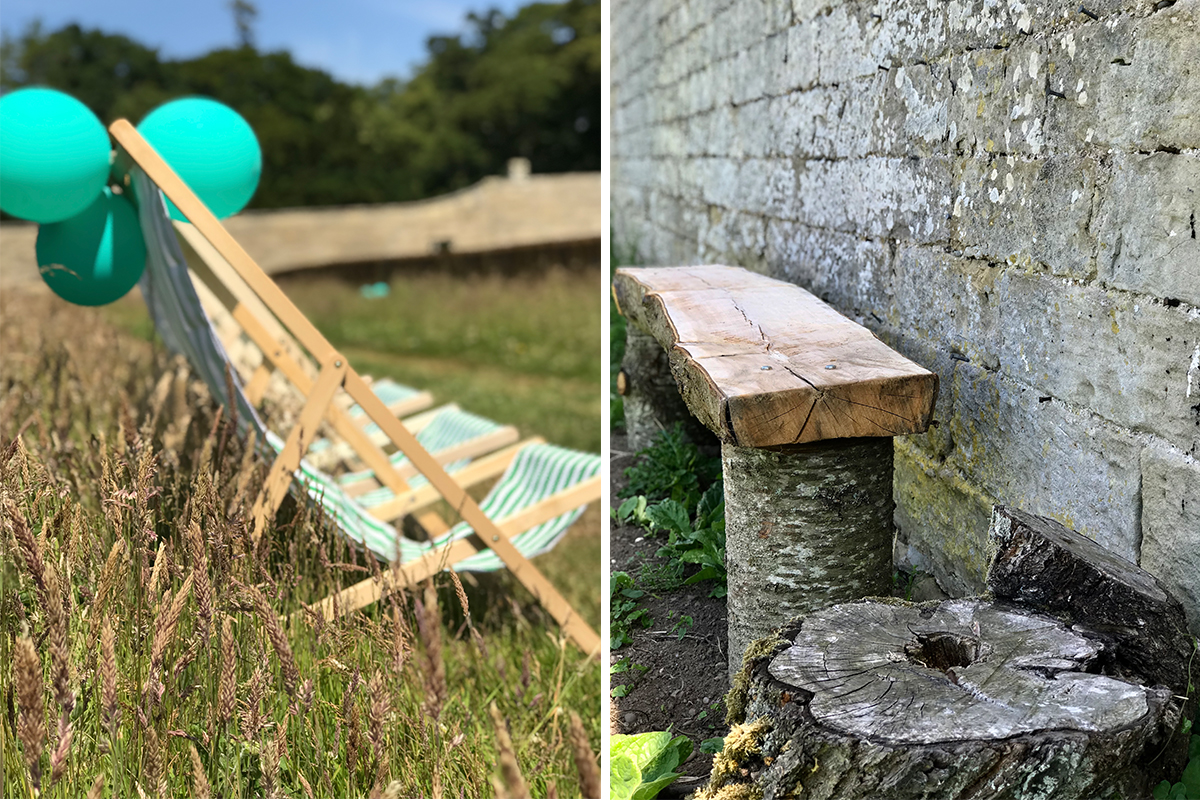 We know our wildlife and their habitats are integral to what makes Milne Graden magical, so we have been keen to feature wildflower and natural grass areas, in addition to our mown lawns within the dog park.  This also ensures lots of interesting 'sniffs!'
Thankfully, the dog park's water-butt provides an endless supply of hydration… after all, having this much fun is thirsty work! 
We want to see our doggy residents enjoying the dog park and to connect our community of dog-lovers, so please do tag @talesofthetweed or send us your photos! We'd love to see them!