Milne Graden School House Holiday Cottage
This dog friendly cottage is situated on the edge of the magnificent River Tweed. School House is part of our Riverbank series of holiday cottages, along with Hamilton House, Tweedside and Swan's Nest.
The former school house for Milne Graden Estate, is our take on the traditional Scottish Lodge. Think impressive antlers, double height spaces and statement lighting. Here you'll find a carefully chosen mix of heritage and modernity.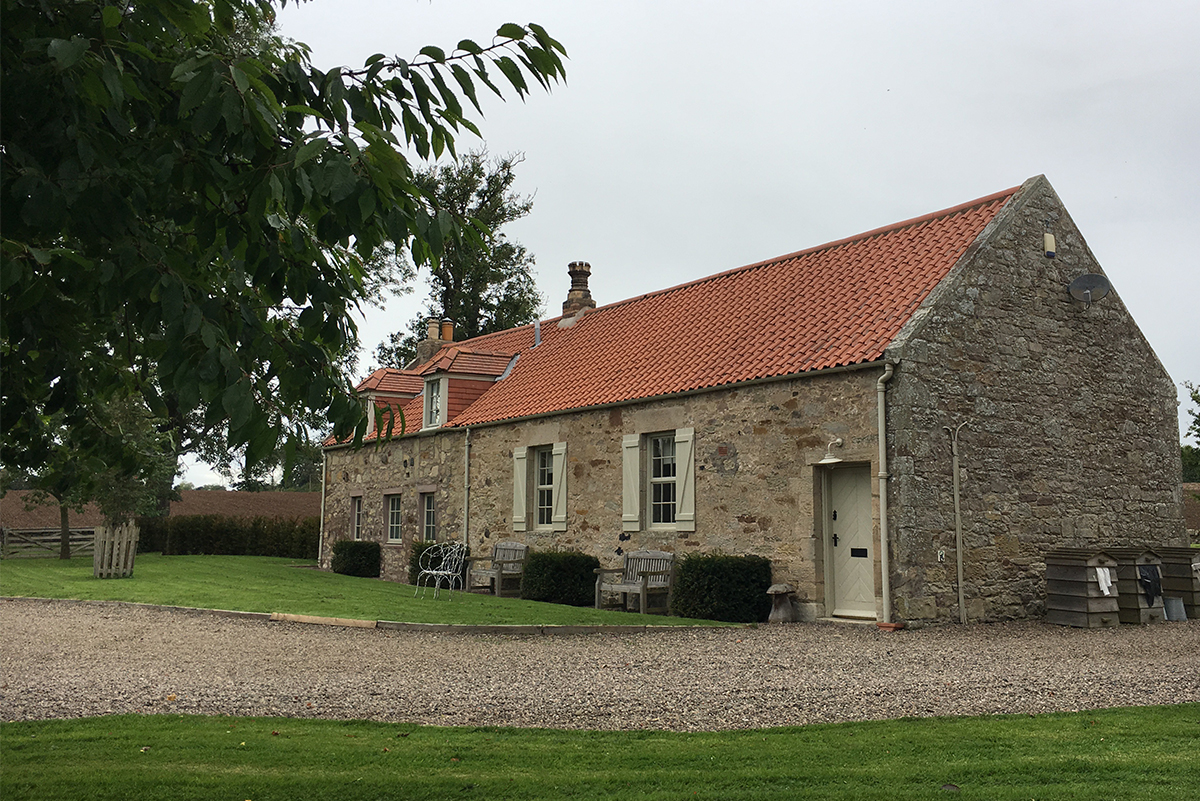 The old school room provides an impressive open plan living/dining space with a mezzanine bedroom above. Interior designed using British made Original BTC Davey bronze lanterns above the dining table and on the walls. The interiors of this holiday home have been carefully designed to create cosy areas within the open plan space. A place for relaxation, a writing nook by the window and a fireside reading corner.
The stone feature wall serves as an anchor in the lounge area and houses a welcoming open fire.  Heritage fabrics and colours create a calming space with the softness of understated luxury. Sumptuous Tweeds and leather adorn the three unique bedrooms, with modern accents and contemporary artwork providing a freshness throughout the well-appointed rooms.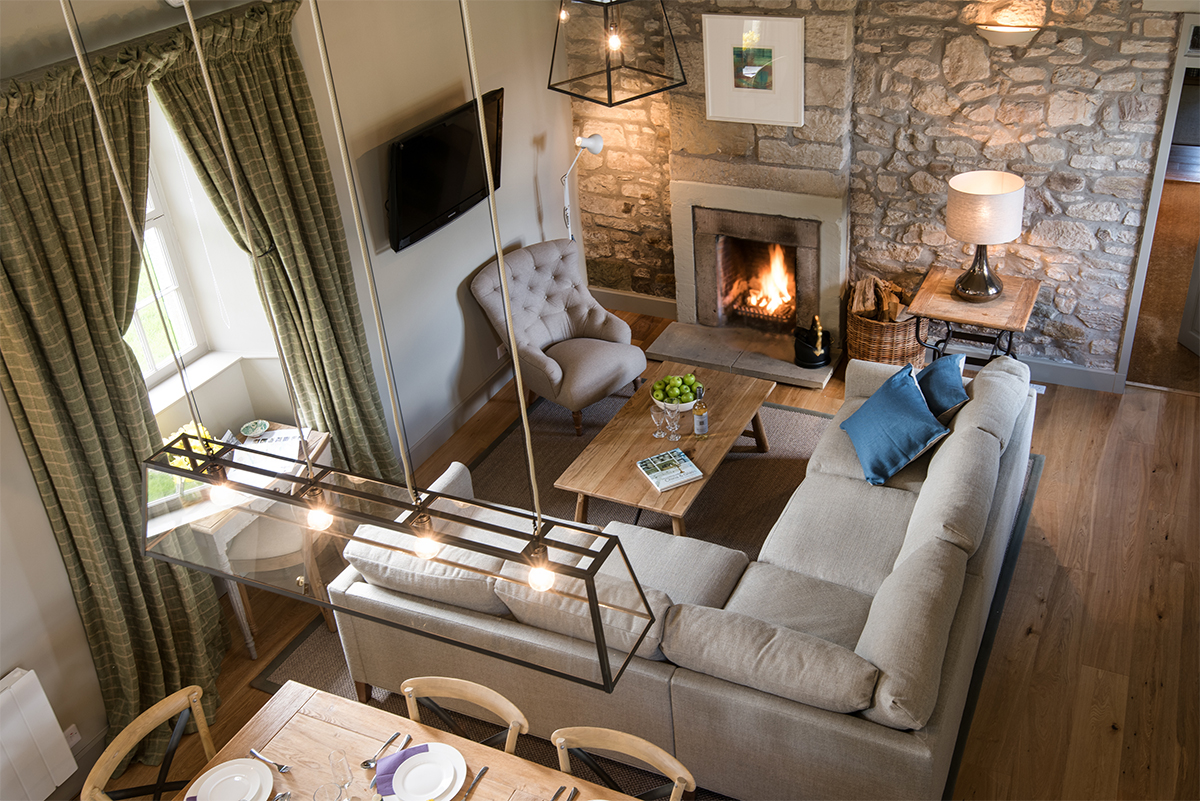 This cottage has a compact and fully equipped kitchen and provides everything required for a self-catering break.  However, if you don't fancy doing the cooking, there are plenty of places to dine out in the local area, with many of them welcoming dogs. Our pick of places to go is included in our Milne Graden Press newspaper, which awaits all holiday cottage guests on arrival.
A generous utility area makes School House – which comfortably accommodates 2 medium sized dogs – perfect for fishing parties, with plenty of space for storing tackle and drying equipment – it even has a chest freezer for that precious wild salmon.
We welcome dogs in all 8 of our holiday cottages. We want to be 'more than' dog-friendly  with the exclusive use of the Tails of the Tweed dog park! A large enclosed area within the Victorian walled garden designed to suit both large and small dogs with frisbees and balls for everyone to play with in the toy chest.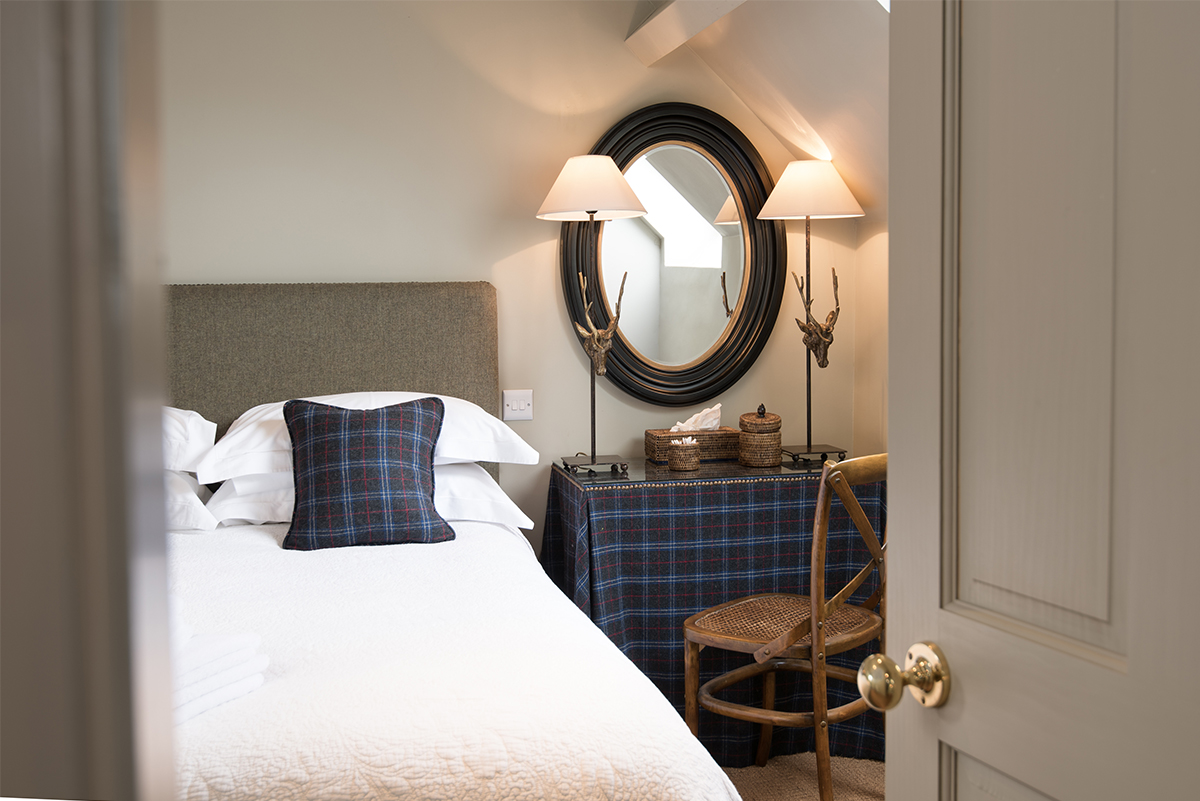 School House will have its own enclosed dog-friendly garden for 2020 and provides the ideal spot for relaxing outdoors. Whether dining alfresco on a warm summer night or relaxing with a cup of coffee, this spacious lodge style cottage is perfectly situated for taking in the spectacular views over the river Tweed.
The front of the property is open to the river Tweed and a path leads directly to the river and the network of river and woodland walks around Milne Graden Estate.
School House comfortably accommodates parties of 6, or couples looking for a spacious home from home to escape the hustle and bustle of modern life.
Fancy retreating for a few days immersed in nature on a tranquil stretch of the River Tweed? We offer seasonal fishing packages at School House, which include private use of our expert ghillie – perfect for both the seasoned salmon fishing professional or those who have never fished before!
For more information and booking click here.