Summer Days at Milne Graden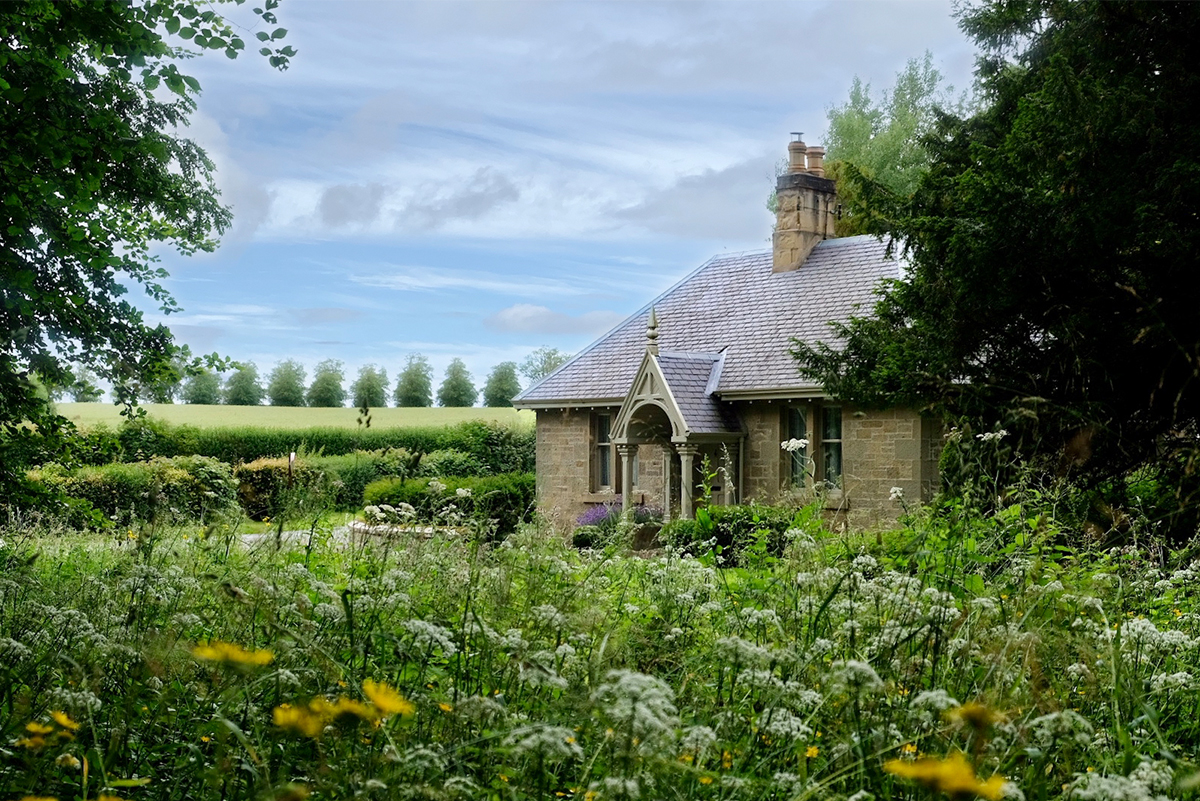 We are so happy to be welcoming guests back to Milne Graden following the lockdown closure. A great deal of care and attention has gone into doing this in a safe and responsive way and we are delighted to have received some really lovely feedback from our visitors. We just love this one from the Greenwood family who stayed in Swan's Nest:
"Really lovely cottage with picturesque views and a spectacular location, would love to come again – the dog loved it too!"

A crescendo in the hedgerows
Often our guests tell us they return to Milne Graden for the tranquil riverbank setting and the abundance of nature to be found throughout the Estate. As we reach the height of summer here in the Scottish Borders, Milne Graden is alive with colour and vibrance. From the diverse array of plants to beautiful butterflies and songful birds, there is a crescendo taking place in the hedgerows, woodlands and meadows.
At this time of year Milne Graden is awash with wildflowers. Not only are these beautiful bursts of colour wonderful for the eye but are also important feeding and nesting habitats for these pollinators, birds and small animals. We know that these wild areas are precious and we take great joy in expanding and looking after them. Now the dog park has bedded in, wildflowers lace the surrounding fence and the tall grasses are providing the all important "good sniffs" for our doggy visitors.
Wherever you are at Milne Graden you are never far from the river's edge. Each time we wander our network of paths on our daily dog walks we see these familiar surroundings afresh. The shifting light and abundant plant life shape the river views, offering up ever-changing scenes as the path ebbs and flows along the Tweed.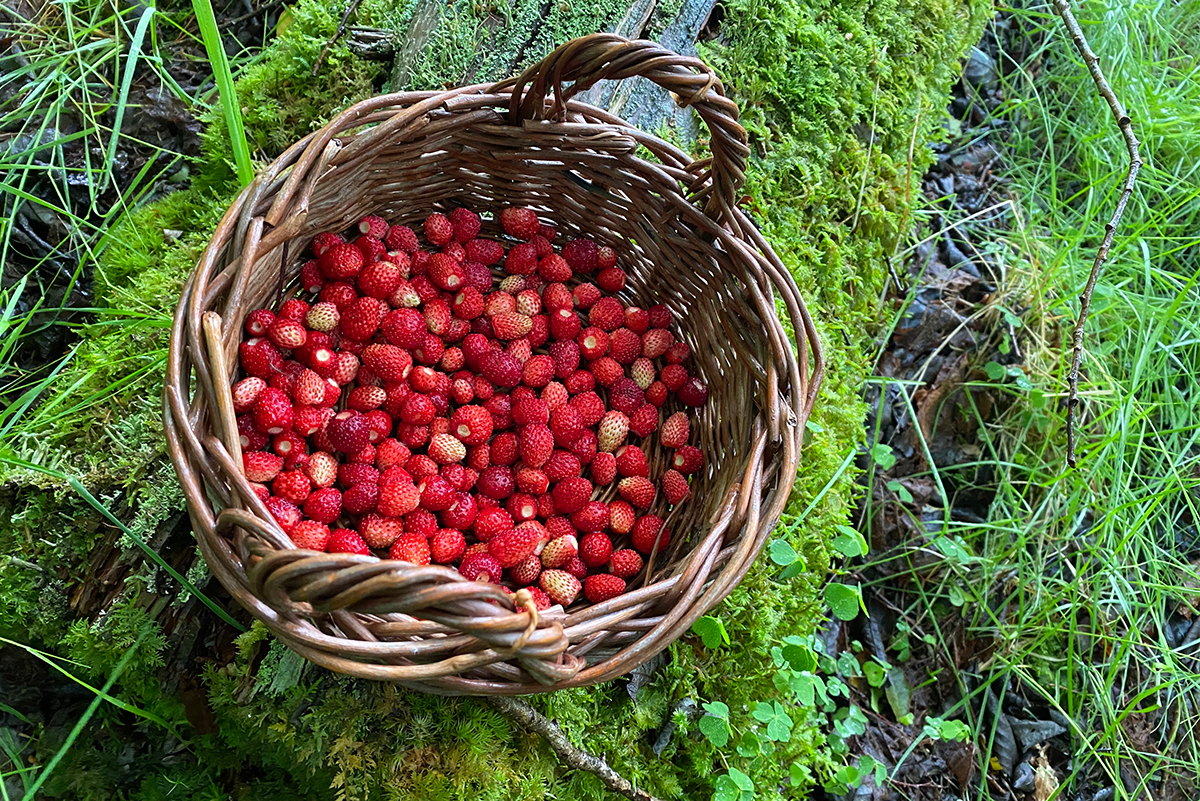 Fruitful discoveries
A casual stroll in the sun, enjoying the gentle breeze that often accompanies a summer's day here, may also lead to fruitful discoveries. Perhaps a plump hedgerow raspberry, having just turned to prefect ripeness over night, or a Scottish blaeberry (or bilberry) that will delight and stain in equal measure. Those who look closely enough, may well be rewarded by a juicy wild strawberry. These red jewels taste, rather surprisingly, more like banana than their more familiar cousins.
Milne Graden's Forager – House Manager Jenny – has been busily making the most of this year's bounty of elderflowers, crafting her famous cordial which provides us with such welcome blasts of summer throughout Autumn and Winter.  Later in the season it will be the turn of the elderberries, along with plentiful brambles and Milne Graden's secret sloes. We always look forward to a batch of Jenny's bramble and sloe gin jelly.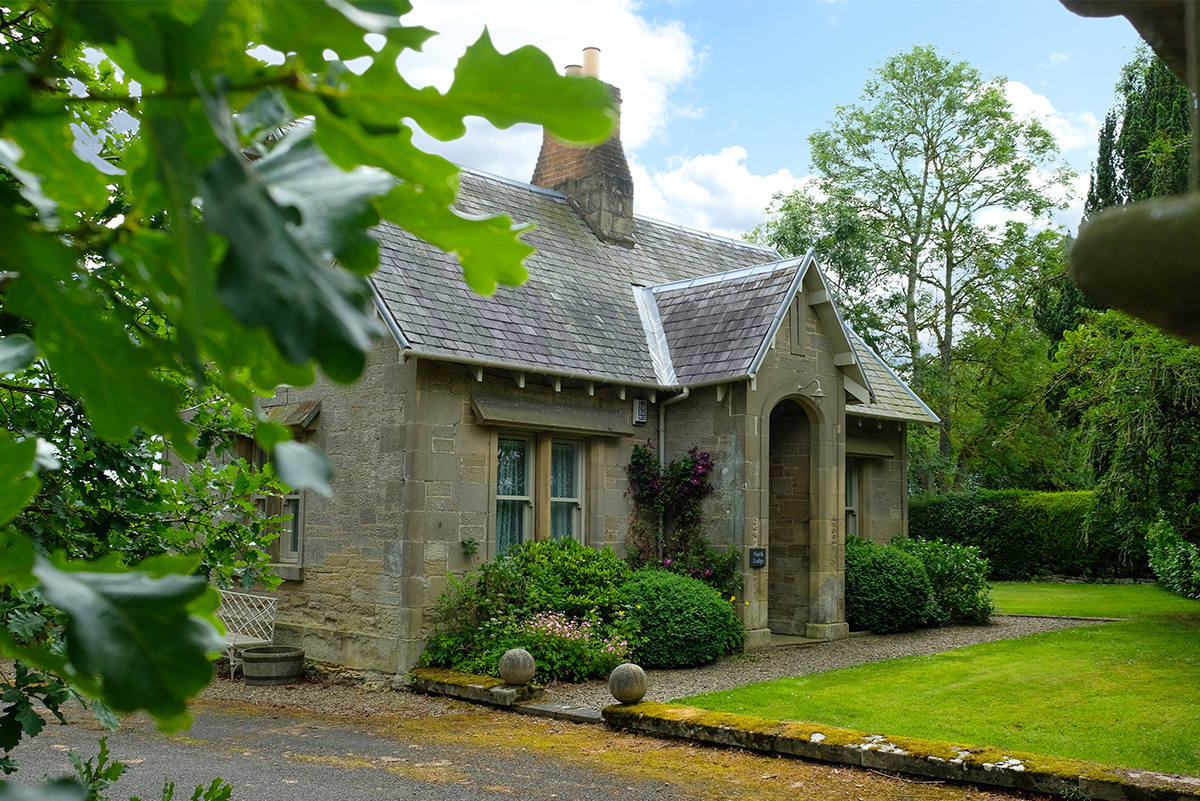 Summer days and cottage charm
Beautiful summer days by the river are hard to beat. Those dreamy moments of stillness, when the sunlight filters through the trees bathing everything in a balmy glow, combined with the calming sounds of the water, forms the ideal salve to challenging times.
There is joy too on wet days, of course. During a summer shower the woodland sings. The rain induces a brilliance to the forest that brings its colours and scents to life. From the vivid purple foxgloves to the heady, sweet honeysuckle, it allows us to really notice the details.
The cottage gardens also are in full bloom. The pretty front garden at North Lodge is alive with summer flowers, bringing cottage charm aplenty. While the lavender at gate lodge Park End is a stunning flush of violet at the entrance to the Estate. The bees seem to absolutely love it and serve as a gentle reminder that we should always stop to smell the flowers.